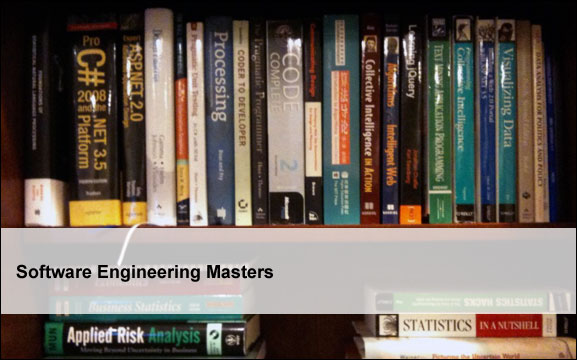 March 5th, 2010 | Published in Personal
So I am starting a masters in Software Engineering at the University of Maryland University College Harvard University Extension School. I ended up checking out numerous programs and it was kind of interesting some of items that became important to me.
Online: I kind of knew that I would probably need a program that is at least partly online. This is mainly due to the fact that my work often requires me to travel often for up to two weeks at a time.
Program Type: I am in kind of a weird place academically. I graduated with a Bachelors of Science in Information Technology even though I considered myself to be in the Computer Science program. I actually took all the required classes for the Comp Sci degree with the exception of all the math. This is now a bit of a detriment because I could have used about two more math classes that most masters programs require. It really leaves me at looking at Software Engineering or Business Intelligence DB programs.
Computer Science Programs: Interestingly enough there are many aspects to Computer Science that I am not interested in: namely many programs have you focus in a particular area (i.e. graphics). The only focus area that really interests me is Machine Learning and often this gets put under AI – which often is not really the same.
DC – Area: The DC area is kind of a strange place to look for schools. There are only a couple of programs that are actually convenient for me to travel to: George Washington, American, Georgetown, Howard and the University of the District of Columbia. But, truth be told I am actually not really interested in any of these schools for various reasons.
[Update] It's been a while since I wrote this post but, I found out that Harvard actually has a great software engineering program and so I switched. There are some awesome classes, with some amazing people… and a couple that scare the crap out of me.
Related Posts
Online Virtual Machine Development