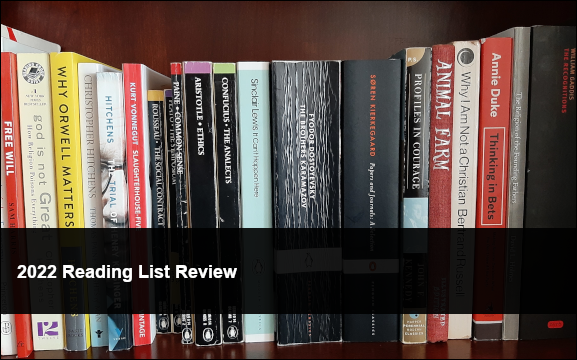 January 6th, 2023 | Published in Books, Personal
Here is the list of books I read last year. Typically, I read a lot more. The major impediment was losing about three to four months just finishing my Master's degree, trying to publish my research, and moving to Turkey. This turned out to be a reasonably light year in the reading department.
Hands down, the best book was the first book. Jason Stanley is a brilliant writer, academic, and philosopher. This year was my first foray into Umberto Eco and Albert Camus, both talented authors. I also tried to read poetry for the first time, which was fun. I also half-read many books about pursuing a Ph.D., research, and academic writing.
The 48 Laws of Power by Robert Greene took me the longest to complete. Although it was a hard book to read, it was beautifully researched and written.
1. How Propaganda Works –Jason Stanley
2. The Atheists Bible–Misc
3. Only Dull People Are Brilliant at Breakfast – Oscar Wilde
4. How to Write a Thesis–Umberto Eco
5. Create Dangerously–Albert Camus
6. How to Spot a Fascist–Umberto Eco
7. Free Will–Sam Harris
8. Tao Te Ching – Lao Tzu
9. The Communist Manifesto – Karl Marx & Friedrich Engels
10. Digital Minimalism–Cal Newport
11. The Stranger – Albert Camus
12. The Myth of Sisyphus–Albert Camus
13. Revolver: How The Beatles Reimagined Rock n' Roll–Robert Rodriguez
14. Rules For Radicals–Saul Alinsky
15. Suspicious Minds–Rob Brotherton
16. Propaganda And The Public Mind–Noam Chomsky
17. Beatles' 66: The Revolutionary Year–Steve Turner
18. A Little History of Philosophy–Nigel Warburton
19. The Merchant of Venice–William Shakespeare
20. The Sunflower – Simon Wiesenthal
21. Make Time–Jake Knapp & John Zeratsky
22. Tinker Tailor Soldier Spy – John le Carre'
23. The 48 Laws of Power–Robert Greene
24. How To Talk Dirty And Influence People -Lenny Bruce
25. On The Shortness of Life–Seneca
26. On The Happy Life – Seneca
27. W. H. Auden Poems selected by John Fuller–W. H. Auden
28. On Writing – Stephen King
29. Beat Poets–Misc
30. Heart Of Darkness–Joseph Conrad
31. How To Write A Lot–Paul Silvia
32. The Trial of Henry Kissinger–Christopher Hitchens
33. The Idiot–Fyodor Dostoevsky
34. The Art of Thinking Clearly–Rolf Dobell
35. Conspiracy – Michael Shermer
36. The Obstacle Is The Way – Ryan Holiday
Related Posts
Books In January
Daily To-Do Lists
The Scurlock Studio
The Hitchcock/Truffaut Tapes